The main component of any wood is cellulose, which serves as the primary source of nutrition for both insects and decay fungi. The biggest enemy to wood is moisture. When untreated wood is exposed to the elements, to weather and particularly to moisture, decay fungi can establish very quickly and rot can occur in just a few short years. Rotting wood is also a natural home for wood destroying insects like powder post beetles, termites, carpenter ants and other borers. In general, wood destroying fungi need three things to survive and thrive; they are food (wood cellulose), water and oxygen.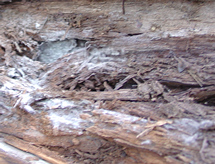 Trapped moisture can not escape from the wood, and high risk areas for rot include painted surfaces, potted plants where the planter has direct contact with the wood, and underneath outdoor carpeting and door mats. Typically, if the WMC (wood moisture content) is below 20%, rot is not a concern. However if the WMC is over 20% and the wood is unable to properly dry out, it becomes a breeding ground for fungi and eventually
for rot. To grow, fungi need temperatures between about 40 and 100 degrees Fahrenheit. Oxygen must be present. The wood itself is a source of food for the fungi to live on, and they attack the carbohydrates
which are the cellulose and lignin.
For more information continue reading the article on our website.
All rights reserved, this article may not be reproduced without expressed written permission from the author and See Dirt Run! Inc.