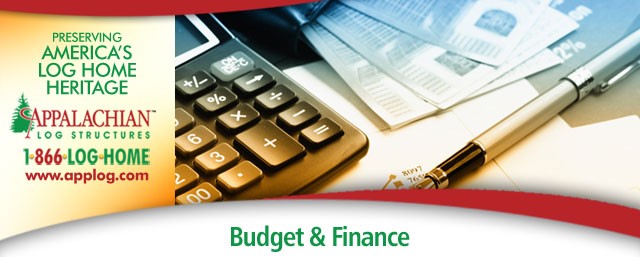 This 3-part series on Financing your Dream Log Home was co-written by Greg Ebersole, Mortgage Loan Officer/BB&T  and Donald Parsons, Appalachian Log Structures.  Mr. Ebersole has over 16 years in the Mortgage Lending field and specializes in Log Home financing.   Mr. Parsons has spent the last 23 years assisting several hundred satisfied homeowners realize their dream log homes with Appalachian Log Structures.
Part 2:
Finding the right Lending Institution for your Dream Log Home and Starting the floorplan process
A key step in having a smooth loan process is finding a loan officer and lender that are familiar with the nuances of financing a log home project.  Many lenders are not familiar with log homes and may only offer adjustable rates that they hold in-house vs. having a 30 year fixed term.  You may find log home financing at places like:
BB&T/Greg Ebersole – 16 years' experience in log home construction financing
Credit Unions
Local Bank
Using your own funds – borrowing against your equity accounts
When searching for a "Log Friendly" lending institutions Mr. Ebersole "recommends asking how many log homes the loan officer and lender have financed in the past 2-3 years."   Here are some key differences in financing a log home project:
Release pre-cutting funds - Some lender's will allow for releasing monies for pre-cutting of the log home building materials while many other's will not.  The amount that can be released is typically based on how much land equity the client has at the time of closing.
Pay log package @ delivery - A key uniqueness with a log home financing is paying for the log home package at delivery of the product. The log package can be a large percentage of the overall construction costs and many lenders are not comfortable paying for the logs at delivery.  The lender may require the logs to be completely stacked before payment.
Part of the documentation process needed to apply for a construction loan is having finalized floor plans, signed material contract & specs with the log home company and a signed construction contract & specs with the builder.  These finalized items are needed in order to structure the loan amount and order the appraisal.  Changes to these items after submitting the loan for approval can cause delays in the loan process so it is important to have costs finalized before applying for the loan.
Mr. Parsons explains that "Most log home companies have a fee for drawing a set of modified or custom floor plans.  While these fees are usually applied as a credit to the log home package when the log home order is placed, you should expect a small investment upfront to get the plans going.  Depending on the size and complexity of the plans Mr. Parsons says "you can expect to invest anywhere between $1200 and $3000 or more for a quality set of preliminary or construction set of plans".  These plans are necessary to present to contractors and sub-contractors to collect bids for the construction process.  Contractors including graders digging the footings for your foundation to electrical, plumbing, HVAC installers and all of the suppliers of your finish materials (floor coverings, cabinets, counter tops, electrical fixtures, plumbing fixtures, etc.) will need to review these plans to come up with an estimated finish cost.  CLICK HERE to view a sample Cost Estimating Worksheet that a builder/contractor would follow to provide a turn-key bid.  It's quite involved but necessary in order to determine that the build price meets your expected budgeted loan amount.
To help you save money on the Financing process, BB&T has a great offer for you.  CLICK HERE to learn more about saving up to a $1000 on Lending Fees with BB&T.
Be sure to check back next week to view Part 3, the last installment, of this Financing Series.